hosting
server
servers
infrastructure
Current Server Architecture¶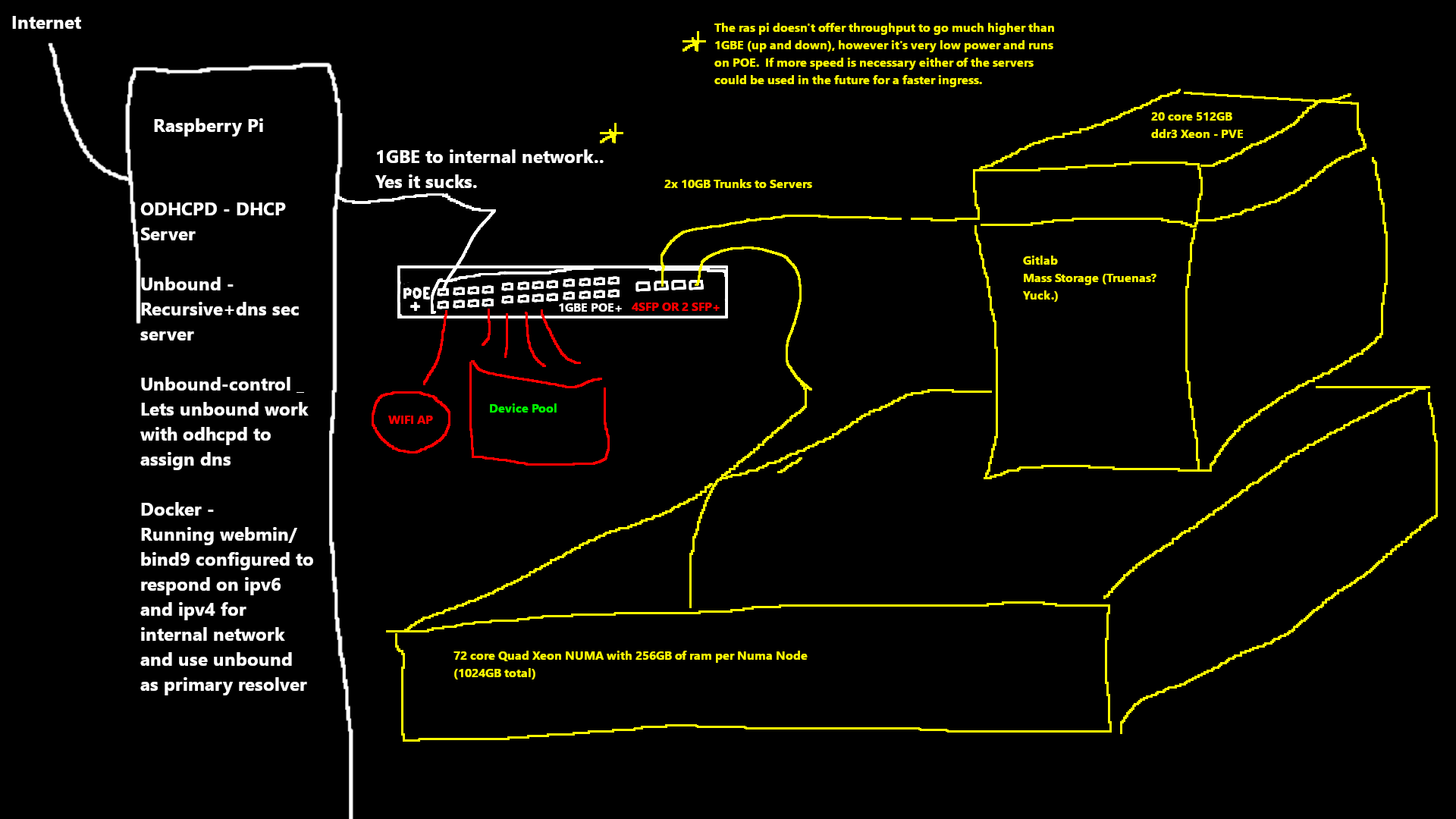 A Quick visual representation. Generated by the most advanced techniques.
Network Rack:¶
Cisco 3750X with the 10GB module, providing 2x 10GB sfp+ ports 2x 10GB SFP+ cablematters rj45 modules
Old Faithful Server:¶
Mainboard¶
SuperMicro X9DAI Tower
CPUS¶
Dual 10 core Xeon's, Intel(R) Xeon(R) CPU E5-2690 v2 @ 3.00GHz
Networking¶
cisco ucs 1225 vic dual 10GB nic - Note: These vics are not a sure thing to buy without a cisco server. If they're not already configured in a way that works, they won't work outside a cisco server.
RAM¶
512GB Samsung DDR3 ECC
Storage¶
2x14TB SAS Exos hard drives
1x14TB SATA Exos hard drive
1x12TB SATA NAS? hard drive
Storage Controller:¶
12GB SAS+SATA controller - Broadcom / LSI SAS3008 PCI-Express Fusion-MPT SAS-3 (rev 02)
8 drive bays, 1 missing drive tray
HPE DL580 Gen9¶
CPUS¶
Quad Xeon(R) CPU E7-8880 v3 @ 2.30GHz (4 Sockets)
RAM¶
1024GB of 16x 64GB ECC lrdimms
Storage¶
1TB NVME via pcie .. it works. old adata one in decent shape.
4x 900GB SAS hdd's, gotta put the brand here sometime.
Networking¶
2-Port 561FLR-T FlexLom card (Intel based?, was cheap, is good)
Storage Controller¶
Smart Array P830i Controller
Ingress:¶
model:¶
Raspberry pi 4 big ram version with beefy sd card
OS:¶
openwrt , a fairly recent version maybe not the latest though.
Software:¶
docker running bind9 and webmin to host a slave server for the local zone dns as well as dns64, operating as the primary dns for the network.
unbound+odhcp - ddns and secure dns lookup
jool - works with dns64 to create tunnels to the ipv4 internet for ipv6 only addresses.
Extra hardware:¶
a 1 gig usb ethernet adapter.. Internet all passes through the pi.
Wifi:¶
TP Link EAX 650 Omada AP¶
I like it. setup is easy considering how much it can do as an AP.
---